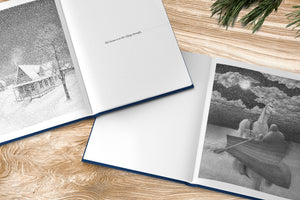 "This is the most beautiful and imaginative of all editions of this favorite poem." 
In this special cloth-bound limited edition, the immortal poem by Robert Frost is delivered with a surprise twist, which turns the narrator into Father Christmas himself, pausing on his journey around the world. Meticulously illustrated in stippled ink, dot by dot, by prodigy illustrator Natalia Mamaeva, it will become a yearly Christmas tradition alongside The Night Before Christmas.  
***BACK AND SAVE: This book is in pre-production. When you "buy" this book now, you won't be charged anything, but you'll be reserving a copy for yourself at the Early Bird price. So, when the book goes into production, you save 50%! Instead of $35, you get yours for only $17.50 (plus shipping)!